Over the past couple of years, a lot of noise has been around the blockchain in the media, a huge number of projects with dubious prospects have appeared. Among all these events there was at least one really important one, uniting the blockchain ecosystem and the gaming industry. This creation Blockchain Game Alliance, which included such companies as: Ubisoft, Enjin, Figas well as blockchain-based platforms Ultra , EverdreamSoft, Alto, Gimli, B2Expand, ConsenSys.
And now on Game Developers Conference 2019, March 21, in San Francisco, at the largest event for professional game developers,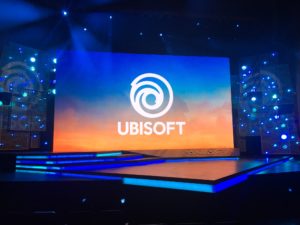 Nicolas Poard (Strategic Innovation Lab - Blockchain Initiative Manager, Ubisoft), Robert Fals (Senior Developer, Ubisoft) and Pierre-Armand Nick (Technical Artist / Programmer, Ubisoft) will present their talk to explain why and how Ubisoft decided to explore the potential of blockchain for games despite the proliferation of buzzwords like smart contracts. , blockchain and tokens.
The talk will give real advice for those who would like to explore blockchain technology for games. The team will share the obstacles as well as the tips they had to use in order to overcome some of the strong limitations of the blockchain, and a crypto game will also be presented. Hashcraft.
The target audience
The conversation will be for everyone - skeptics, enthusiasts or just curious - who want to learn more about how Ubisoft is approaching the blockchain ecosystem, and is trying to find in it what will make the gaming industry better.
Listeners ne will require deep technical knowledge.
The GDC 2019 conference will be held from March 18-22 in San Francisco.